Every Great Leader has a Coach
Leadership Skill Development




You and your teams can't work any harder.
And your leadership challenges aren't going to solve themselves.
You need to learn to work and lead smarter.
If you're like most business leaders I coach, the challenges stack up until the overwhelm leads to burnout.
Let me guess…
You're having difficulty managing people as your business rapidly changes.
You're dealing with overwhelm and burnout personally and you're watching it trickle down to your team.
You need to re-engage and mobilize your employees, but you keep hitting dead ends.
You're struggling to build high-performing teams and struggling even more to retain them.
You're dealing with imposter syndrome as you adjust to a new role and your self-doubt is mounting daily.
Your rockstar employee is bullying others and ignoring your coaching, but you can't afford to lose them.
A leader in a remote region is dropping the ball. You've already had multiple conversations with them about it and you're not sure how to give them productive feedback.
A chip shortage has delayed your product again, your investors are freaking out and your team is demoralized.
Your company just secured a round of funding and you have to hire a great team quickly – in the middle of a labor shortage.
You're so busy putting out fires every day that you don't have time to think strategically about long-term growth. 
What if you had an on-demand Leadership Challenge Solver in your back pocket, coaching you along the way to equip you with the tools to navigate these obstacles yourself?
You'll see new possibilities to scale your business efficiently and effectively.
You'll solve more problems, faster.
You'll resolve your team's unique challenges instead of managing from crisis to crisis.
You'll receive the recognition you deserve from customers, investors and employees, helping you advance your career faster or strengthen your current position.
Stop trying to figure it all out on your own, at least for now. My goal is to coach you so well that you eventually don't need me because you can figure it out on your own. 
You know you can be a great leader, but every great leader has a great coach.
It's time to learn the skills you need from someone who's surmounted the doubts and challenges you're facing right now. You can only do your best work if you acknowledge your gaps and work to fill them. That's where I come in.
You bring the challenges. I'll ask the tough questions and provide you with the skills, tools, mindset, and behaviors to lead effectively. You get immediate results.
Most leaders struggle to keep their team on the same page and productive. At Innovators + Influencers, we train and coach executives and managers on 15 science-backed leadership skills  to build teams that are cohesive, happy, productive, and profitable.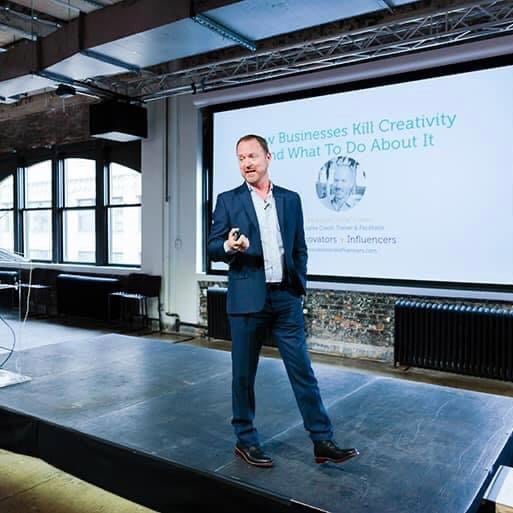 I know what it feels like to be overwhelmed and not be able to lead the way you would like.
But leadership is a measurable and teachable set of behaviors that everyone can learn.
Hi! I'm Michael "Coop" Cooper.
If you're like the business leaders I've known and coached, you're doing the best you can for yourself and your team with the time, knowledge, and resources you have. But sometimes it's just not enough.
You've likely wondered if there is an easier way to tackle your leadership challenges and set your team up for success.
I know you want to become the leader your team deserves, but it's a struggle to figure it out on your own.
I get it.
As an Executive Leadership Coach for the past 24 years, I've trained over 150,000 employees on essential leadership skills across 33 countries and coached over 2,500 leaders just like you in 1,000+ companies how to   solve their toughest leadership challenges and foster team success beyond their most ambitious expectations.
I am committed to equipping you and your team with the tools, frameworks, skills, behaviors, and mindset to tackle the next series of challenges your company faces, no matter how difficult.  By meeting these challenges head-on through human-focused leadership coaching, you can stop feeling overwhelmed and lead more effectively amid the challenges you're facing now and the challenges you can't predict.
Are you ready to level up your leadership toolkit?
We have worked with Coop for a year now, and he has been insanely helpful on everything from high level strategy to detailed day-to-day management.
From all his work with early stage startups, Coop has incredible pattern recognition on everything we have run into. He can speak with a high level of detail towards what has worked and hasn't worked at other companies, and can abstract away overarching principles to navigate virtually any situation. Specifically, Coop has helped us with fundraising, goal-setting, company processes, sales strategy, employee management, customer management, and how to set and maintain a healthy workplace culture. Coop has also recommended specific tools (e.g., neuroefficiency assessments) that have helped us work together better as a team.
One of the best and highest-return decisions we made was to start working with Coop, and I would strongly encourage any early stage company to do the same.
Coop has been an invaluable resource for my executive team and I. As a first time founder trying to scale a new business during a global pandemic, I don't know what I would have done without Coop's strategic guidance and counsel.
When we started working together, Baton had no customers and no employees. Coop helped us navigate many of the early challenges facing our business – selling to our first enterprise customer, hiring our first executive, building out or technology strategy, and most recently, articulating the right story to investors for our Series A financing.
While Coop is a brilliant business thinker, the thing that sets him apart is his ability to counsel his clients through the emotional, personal, and interrelationship aspects of starting a business. He's helped me identify and work through personal shortcomings and insecurities and grow as a leader.
The Leadership Upgrade Plan
We'll map out a customized plan to solve your toughest leadership challenges
You shouldn't have to figure it all out on your own and you deserve to lead with confidence.
I am here to help you tackle your toughest leadership challenges so you can exceed your own expectations. Clients are often surprised how quickly Leadership Coaching can help them grow and improve their confidence as leaders. 
Coop has been great at coaching me to become a better manager. He usually doesn't just provide a solution to the issues that I have, but he actually makes me use my common sense and gut feeling to solve each of the problems that might arise. He has helped me create a very good framework to manage my direct reports differently based on their needs and brain types.
You know you don't have the time to figure it all out on your own – and you're ready for competent help

You're willing to do the work it takes to level up your leadership skills

You're ready to think through your complex leadership challenges without playing the victim

You're ready to grow and lead with confidence
You don't have aggressive growth goals

You're happy to stay "stuck"

You have zero desire to become a better leader

You don't see any room for improvement

You think you have to figure it all out on your own

You like to complain, but not act
You're not willing to try new things
I worked with Coop as my executive coach for around a year. The engagement kicked off during a time period when my company went through a large re-org which more than doubled the size and scope of my group. This presented a lot of new challenges ranging from integrating the larger group together to managing internal stakeholder relationships to designing and rallying teams around multi-year strategies. At the same time, the company was going through a period of tremendous growth and working through integrating a large acquisition.
Coop's coaching was invaluable in helping me work through many challenges and opportunities that came out of this period of growth. He provided clear insights, tools, and frameworks that were consistently actionable. He strikes the right balance between being supportive and challenging, and regularly kept me accountable and pushed me to always handle difficult items directly and effectively. He was helpful across the spectrum between day-to-day operational topics to multi-year strategic topics. I'd highly recommend working with him.
3, 6 and 12 Month Coaching Packages Available
Coaching with Coop can include:
Bi-weekly 90-minute leadership coaching sessions
Behavioral change fieldwork assignments and feedback
Customized leadership development plan
½ day alignment sessions with your entire team
360 assessment interviews with managers, peers and direct reports
Tools and templates to keep your team aligned
Access to on-going training for specific Leadership Challenges
I had the great pleasure of working with Coop last year. He's a true master of human communication. His easy-going style and techniques make it easy to discuss and unravel complicated situations. Coop is great at advising through political situations and helping you "lean in" to push forward.
Coop has the amazing power of transforming and generating true alignment. Understanding our organization's needs, he can connect all voices to be heard in a process that was thorough and productive for the benefit of our organization. He is a person radiating positive power.
With his wide-ranging skills and on several occasions, we are amazed at his ability to bring us all along, engage our input, keep us to task, tie a multitude of complexities together and enable great outcomes.
He has a wonderful way with people, highly developed understanding of leadership and interpersonal relationships while focused on critical business principals. He not only equips you with tools in communicating and managing effectively with colleagues from all levels, he also provides the opportunity to reflect on your own behavior and how to increase positivity and collaboration within your own team and across the workplace.
I would highly recommend Coop's facilitation and coaching and facilitation services.
Coop was a great resource for my co-founder and I during a period of significant growth at Science Exchange. He was instrumental in providing us with a sounding board for strategic decision-making, and on multiple occasions helped us work through important decisions in advance of presenting them to our Board and management team. During a period of radical change in our company, Coop's coaching was invaluable in helping us move Science Exchange in the right direction.